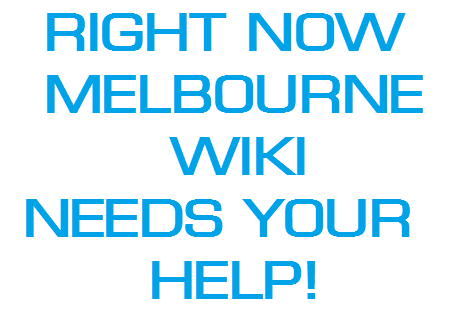 Can you help us?!?
Melbourne Wiki would like you to help us out by fixing the small little details that need to be fixed!
Things you can help with...
Fixing info boxes - right now Melbourne Wiki is using the terrible default Wikia info boxes. We need your help to make info box templates for pages. You can find the template we would like to be changing to under "Template:Infobox Melbourne" and copying the layout into another template page. When finished creating the page for the template, open it up on an artical and start filling in the lines.
Changing articles copied from Wikipedia - most of our articals have been copied from Wikipedia. This is a source of plagiarism, so please help!!
Spelling/Errors - Please take a look through the wiki to find any major spelling mistakes or errors.
Ad blocker interference detected!
Wikia is a free-to-use site that makes money from advertising. We have a modified experience for viewers using ad blockers

Wikia is not accessible if you've made further modifications. Remove the custom ad blocker rule(s) and the page will load as expected.