Melbourne Bike Share

Some attributes

First
Type:

Public Transport

Second
Bikes Available:

7-27

Third
.

Other attributes
Melbourne Bike Share
is a new form of public transport, designed for short trips across the city. The idea is that you can take a bike when you need it and then return it to one of the 50 bike stations throughout the city. It is operated by RACV, Vic Roads and the State Goverment Victoria.
There are a number of Bike Share Stations arround Melbourne City. The stations have a range of bikes from 7-25. Each station around the city has extra docks so bikes can be placed in different stations other then the one where the person has got it from.
Locations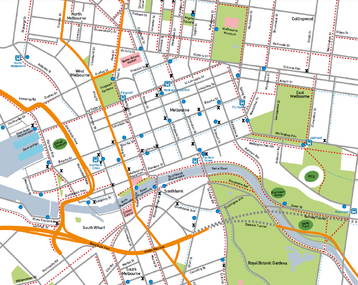 There are 51 stations located in Melbourne, all of which are open.
Major Locations:
Federation Square
ACCA (Australian Centre of Contemporary Art)
Beach St Port Melbourne
Docklands - New Quay / Harbour Esplanade