Melbourne Park is a sports venue in the Melbourne Sports and Entertainment Precinct in Melbourne, Victoria, Australia. Since 1988, Melbourne Park has been home of the Australian Open in tennis, which is played annually in January. The venue was the home of the Melbourne Tigers basketball team, and can be adapted to host netball, ice skating, concerts, cycling as well as swimming and motorsport events. It is run by Melbourne & Olympic Parks, which also runs the adjacent Melbourne Rectangular Stadium. The Yarra Park section of the Sports and Entertainment Precinct is run separately.
History
Melbourne Park was built in 1988 beside the Jolimont Yards as a new venue to host the Australian Open, as Kooyong, the previous venue, had become too small. It was originally known as the National Tennis Centre at Flinders Park until 1996, when then-Premier, Jeff Kennett decided to rename it Melbourne Park, mainly to advertise the name "Melbourne" to a wide international audience. The decision was met with strong opposition, and was compared by some to renaming Stade Roland Garros (home to the French Open in Paris) "Paris Park". However, over the years, it has become accepted by the Melbourne community.
Events held
While it is best known for being a tennis venue, Melbourne Park also plays host to a number of other sports and musical events throughout the year. The venue tends to be used by more popular international performers, as it is the largest that the city has to offer, excluding the Docklands Stadium in the Docklands and the nearby Melbourne Cricket Ground, which are both hugely expensive.
The Two Tribes dance festival was held there annually.
Rod Laver Arena was the venue for the The Eagles' Emmy Award-winning 2005 "Farewell 1 Tour: Live from Melbourne" double-DVD recording.
Capacity and facilities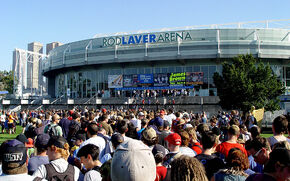 Formerly known as Centre Court,
Rod Laver Arena
has a capacity of nearly 15,000, and has a retractable roof. The second largest court is Hisense Arena (temporarily known as the Multi-Purpose Venue during the 2006 Commonwealth Games), which was opened in 2000. It has a capacity of 10,500, and also has a retractable roof. There are also three show courts, with the former Show Court 1 now named the Margaret Court Arena.
Melbourne Park is adjacent to the Melbourne Cricket Ground in Yarra Park, and there are several pedestrian bridges linking the two across the separating railway lines. The park is five minutes walk from Richmond and Jolimont railway stations, and five minutes from the city centre by tram (route 70) or ten minutes on foot.