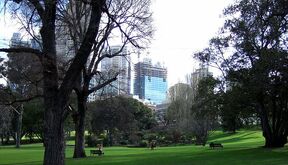 The 
Treasury Gardens
sit between Fitzroy Gardens and Spring Street, and are a popular venue for community events and rallies. The gardens are home to a multitude of brushtail possums that emerge from the trees to feed at dusk. Features include: the Robert Burns memorial; an ornamental pond with a monument to President John F. Kennedy; a memorial statue of Sir William Clarke; and a large embankment, home to various statues of Victorian politicians that offers views to the south.  
The Treasury Gardens consist of 5.8 hectares (14.4 acres) on the south-eastern side of the Melbourne Central Business District, East Melbourne. The gardens are bounded by Wellington Parade, Spring Street, Treasury Place, and by the Fitzroy Gardens across Lansdowne street to the west. They form part of a network of city gardens including Fitzroy Gardens, Carlton Gardens, Flagstaff Gardens and Kings Domain. The gardens are listed on the Victorian Heritage Register for their historical, archaeological, social, aesthetic and scientific (horticultural) importance for its outstanding nineteenth century design, path layout and planting.
The Gardens are a short walk from Victoria's Parliament House and are overlooked by the old Treasury buildings, and State Offices. They create a landscaped setting for office workers to enjoy during lunch with large areas of lawn and walking paths lined with mature trees. Due to their central location close to the city, they are a popular spot as the starting or ending point for political rallies, demonstrations and festivals. The gardens are also enjoyed by business people and tourists staying at the Hilton Hotel on Wellington Parade, who are able to wander through on their way to the city.